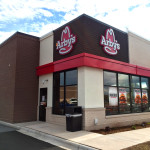 The new Arby's location at 1911 Main Street in Green Bay Wisconsin is now open!
After a week long Grand Opening Celebration, the store is ready to serve you!
On October 8, 1,600 residents of Green Bay stopped in for their FREE sandwich and to check out the new location.
While waiting…