New Arby's Restaurants!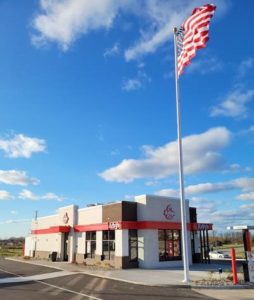 Two brand new Arby's locations are set to open in the fall of 2021! As DRM continues to expand their footprint in the Midwest, they will own and operate 98 restaurants with the opening of Grimes and Grand Chute:
NOW OPEN! 715 W. Evergreen Drive  Grand Chute, WI 54913
NOW OPEN!: 1201 E 1st Street  Grimes, IA 50111
The new restaurants will employ approximately 35 team members and will feature Arby's Inspire design. The Inspire design reduces development and remodeling costs, increases restaurant efficiency, adapts to a wide range of site opportunities, and delivers an upgraded guest experience. The design also includes authentic features such as wood tones, white brick, subway tiles, stainless steel finishes, chalkboard graphics, and upgraded lighting and landscaping.
"We're proud to bring an Arby's restaurant to Grimes and Grand Chute," said Matt Johnson, an Arby's franchisee and President and CEO of DRM, Inc. "We invite the community to experience Arby's — from our Classic Roast Beef sandwich and Jamocha shake, to our crave-able New Nuggets and Crinkle Fries!" said Marc Johnson, President & COO of DRM, Inc.