Oneida Arby's Remodeled!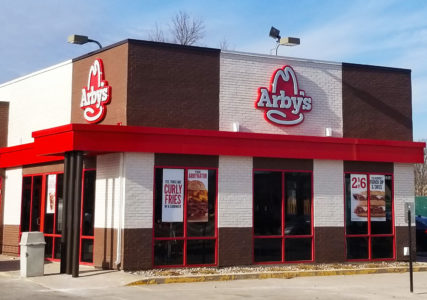 Arby's, located at
2456 S Oneida St in Green Bay
 is now fully open with a newly remodeled interior and exterior! Signature design details include white subway tile, multi-toned wood walls, chalkboard graphics, bright red chairs, contemporary overhead lighting and a community table with multi-media charging outlets. One exterior design element remained the same though! You will still see Arby's iconic hat sign from 1977 as you drive up to the restaurant; the original Arby's logo with the brown cowboy hat and large yellow lightbulbs. One of the last of its kind in the country.
Stop in to check out our new look and savor the nostalgia of the 10-gallon hat sign. Also, register to win a $100 Arby's gift card through December 31st. Arby's is open from 10 a.m. to 10 p.m. seven days a week. The restaurant will continue to offer a drive-thru as well as catering service perfect for the holidays. A full catering menu can be found at https://drmarbys.com/catering/
"Our team is excited about this fresh, new design that gives us the opportunity to provide a welcoming, polished and modern look to match the service we'll continue to provide. What better way to showcase our outstanding service and food, than to boost our curb appeal," said Marc Johnson, Owner & COO of DRM, Inc.